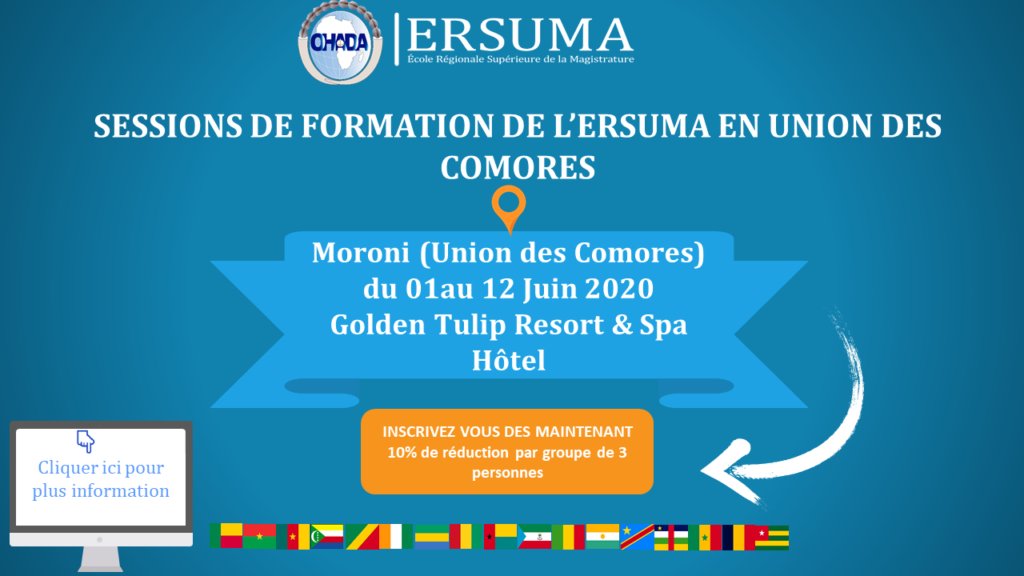 As part of its capacity building program for Comorian players, the High Regional School of Magistracy (ERSUMA) of the Organization for the Harmonization of Business Law in Africa (OHADA) organizes from 16 to 27 March 2020 , at the Golden Tulip Resort & Spa Hotel in Moroni (Union of the Comoros), the 2020 edition of the training sessions.
Following the 2019 activities which ended with the unanimous satisfaction of the 296 trained auditors as well as the Comorian authorities, the 2020 series of activities aims at intensifying the dissemination of OHADA Uniform Acts, the reinforcement of the capacities of the legal and figures professionals as well as the stimulation of investment in the Union of the Comoros.
Venue: Moroni (Union of the Comoros)
TOPICS/TRAINERS/DATES/COSTS
Target audience : Judges, consular judges, lawyers, notaries, bailiffs and enforcement agents, auctioneers, chartered accountants, accountants, financial experts, economists, judicial agents, registrars, auditors, corporate, insurance, banking and audit lawyers, decentralised financial institutions, investment funds, managers and agents from the public and private sectors, professional organisations, development partners, investment banks, investment funds, stock exchange organisations, management and intermediation companies (MIC), donors and international institutions wishing to invest in the Comoros and in the OHADA area, company directors, entrepreneurs and economic operators, academics.
REGISTRATION CONDITIONS
Promotional tariffs:
For 2 registrations = a free annual subscription to the digital BEPP;
For 3 registrations = 5% discounts + a free annual subscription to the digital BEPP;
For 4 registrations = 10% discounts + a free annual subscription to the digital BEPP;
For 5 registrations = 15% discounts + a free annual subscription to the digital BEPP;
For 6 subscriptions = 20% discounts + a free annual subscription to the digital BEPP and the digital ERSUMA Review.
For students and PHD students wishing to take part in this training, they shall be granted a 40% reduction on the training fees provided that they can prove their status by sending a request to the Director General of ERSUMA by e-mail to ersuma@ohada.org , enclosing a scanned copy of the student registration certificate.
A 10% discount will be granted to groups of at least three (03) registrations for each session.
The training fees cover the training aids and materials, coffee breaks and lunch during the training days. Travel, accommodation and other catering costs are the responsibility of the participant.
To register:
Download our registration form from the link below:
https://www.ohada.org/attachments/article/3386/Formulaire_d 'inscription_2020.docx
Fill out and e-mail the registration form to ERSUMA to the following addresses:
ersuma@ohada.org and olory-togbe.ersuma@ohada.org;
Pay the training fees;
Registrations and payments shall be made at:
The High Regional School of Magistracy (ERSUMA)
Porto-Novo – Bénin /Ouando, Carrefour Cinquantenaire – Pobé Road
Phone: +229 20245804/97970537 / 95403190
E-mail : ersuma@ohada.org / olory-togbe.ersuma@ohada.org
Permanent Secretariat of OHADA
Yaoundé – Cameroun / Hippodrome opposite MINREX
Phone: + 237 222210905/652626492
E-mail: secretariat@ohada.org / along.sp@ohada.org
Common Court of Justice and Arbitration (CCJA)
Abidjan – Côte d'Ivoire / Plateau, Avenue Dr JAMOT, Angle Boulevard CARDE
Phone: +225 07444195 / 07912470
E-mail : ccja@ohada.org / adjoumani.ccja@ohada.org
OHADA National Commission (CNO UNION THE COMOROS)
Ministry of Justice, Islamic Affairs, Public Administration and Human Rights
Phone: + 269 333 23 66
E-mail: maoujoubeir@yahoo.fr
International committee of Génie en Herbe (CIGHO) – Representation of the Comoros
M. Mohamed MOUSSA, Phone: +269 338 49 74
E-mail: ahmedmoussa95.ma@gmail.com
Mouvement des Entreprises aux Comores (MODEC)
BP: 702 Moroni Grande-Comore, Mr. Mouzaoui Amroine, Executive Director
Phone: +269 320 85 11 – 773 58 83 – 359 31 61 – 449 31 61
E-mailil : modecmod@gmail.com / Site web : www.modec-km.com
Trough Bank Transfer

BANK NAME: ECOBANK BENIN
ACCOUNT NAME: ERSUMA / FORMATION
NUMERO DE COMPTE: 110220857002
IBAN: BJ062 03027 110220857002 19
SWIFT: ECOCBJBJ
Through money transfer: Western Union/ MoneyGram /Rapid Transfer Ecobank
To Mrs GAFFAN Rosaline Amélévi
Phone : +229 97123363, e-mail : gaffan.ersuma@ohada.org
For any information regarding accommodation, please contact us.
Consult the 2020 training courses table at:
https://www.ohada.org/index.php/fr/actualite/dernieres-nouvelles/3386-formations-ersuma-fr
« ERSUMA, for an effective and efficient rule of law »