The English version of this content will be available.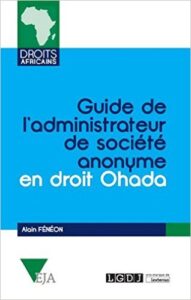 Auteur: Alain Fénéon
Editeur : LGDJ (19 avril 2016)
Collection : Droits africains
Langue : Français
ISBN-10: 2275050965
Broché: 228 Pages
Prix: 26 EUROS – 17 000 FCFA
A propos de cet ouvrage
L'acceptation d'un mandat d'administrateur suppose la connaissance de la réglementation applicable et, en l'espèce, s'agissant d'exercer ce mandat dans des sociétés soumises au droit OHADA, la connaissance de dispositions de l'Acte Uniforme sur le droit des sociétés commerciales du 30 janvier 2014.
Mais au-delà de cette connaissance théorique, le futur administrateur doit s assurer qu'il est en mesure d'exercer ce mandat et notamment qu'il répond aux conditions fixées par les statuts ; il doit s'interroger sur son rôle et sur la contribution qu il est susceptible d apporter à la société. Il doit également s assurer de sa disponibilité, sa présence aux réunions du conseil d administration devant être constante. Il doit par ailleurs veiller à l'absence d incompatibilité tenant à sa personne et à ce qu aucun risque sur les conflits d intérêts ne soit susceptible de s élever du fait de l'exercice d autres mandats.
Enfin, l'administrateur devra, en tout temps, mesurer les risques de l'exercice de son mandat social.
S'agissant enfin du représentant permanent d une personne morale administrateur, celui-ci devra s assurer que ses conceptions de la gestion de la société administrée sont conformes aux principes et à la pratique de la société qu il représente.
Toutes ces questions sont posées par le présent ouvrage et l'auteur s'efforce d'y répondre avec rigueur et clarté.
La connaissance de ce nouveau droit est indispensable à tous les opérateurs économiques, mais aussi aux avocats et juristes d'entreprises qui exercent leurs activités sur le continent africain ou en relation avec l'Afrique.
Biographie de l'auteur
Alain FÉNÉON est avocat honoraire à la Cour de Paris. Il a participé dès son origine à l élaboration des Actes Uniformes de l Ohada et exerce aujourd'hui principalement en qualité d arbitre international et de médiateur. Il a enseigné le droit des affaires en qualité de maître de conférences à Sciences Po Paris, ainsi que dans le cadre du diplôme universitaire de Droit international économique de l Université Panthéon-Assas (Paris 2). Il dirige par ailleurs les Éditions Juris Africa, qui publient le Recueil Penant et la Revue juridique et politique des États francophones. Enfin, il siège en qualité d administrateur indépendant dans plusieurs conseils d administration de sociétés de droit Ohada (www.feneon.org).