The English version of this content will be available.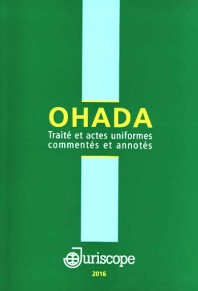 Auteur: Collectif
Editeur : Juriscope
ISBN : 978-2-913556-14-01
440 pages
Parution: 19 avril 2016)
Prix Public en France: 51 EUR – 34 000 FCFA
A propos de cet ouvrage
Le droit Ohada est un droit ambitieux: droit uniforme, commun à dix-sept États parties, il vise à offrir aux acteurs économiques locaux et aux investisseurs étrangers un cadre juridique moderne et stable pour favoriser les investissements et le développement économique de ces pays d'Afrique sub-saharienne. Aujourd'hui, ce sont 9 actes uniformes qui ont été adoptés en application du traité Ohada signé en 1993. Relèvent désormais du droit uniforme: le droit de l'arbitrage, le droit commercial, le droit des sociétés commerciales, GIE et des sociétés coopératives, le droit comptable, le droit des sûretés, les voies d'exécution et les procédures simplifiées de recouvrement des créances, les procédures collectives d'apurement du passif et le droit du transport de marchandises par route. Au-delà des textes, ce droit vivant — 4 de ces actes uniformes ont d'ores et déjà été révisés — doit également être interprété et mis en application de manière uniforme. L'Ohada, à côté du Secrétariat permanent, s'est dotée pour cela de deux institutions essentielles : une école de formation, l'Ersuma, et une Cour commune de justice et d'arbitrage, juge de cassation commun dans tous les litiges nécessitant l'interprétation et l'application des dispositions uniformes.
Le « code vert » réunit en un seul ouvrage le Traité, les règlements de procédure et d'arbitrage de la CCJA et les 9 actes uniformes, à jour des réformes de 2014 et de 2015, commentés et annotés par des universitaires reconnus. Les commentaires permettent d'éclairer le sens des dispositions et d'en restituer le contexte et la portée. Les annotateurs veillent à présenter la jurisprudence de la CCJA et des juridictions nationales africaines pour faire connaître l'interprétation de ces textes par les juridictions compétentes. Grâce à la diversité des sources présentées (textes officiels, jurisprudence, doctrine), l'ouvrage pourra être utile aussi bien à celui qui découvre le droit uniforme qu'au praticien qui cherche les informations les plus complètes sur le droit des affaires africain.
Le « code vert » et les autres publications de Juriscope sur le droit Ohada ont été récompensés en 2004 par l'attribution à Jacques David du prix Charles Aubert de l'Académie française.
A propos des auteurs
La composition du comité de rédaction illustre la diversité des points de vue et des expériences des commentateurs. Ont participé à cet ouvrage: le professeur Sossa (Bénin), Secrétaire permanent de l'Ohada, ainsi que les professeurs Agbenoto (Togo), Anoukaha (Cameroun), Bokalliv (Cameroun), Diouf (Sénégal), Gueye (Sénégal), Kamto (Cameroun), Issa-Sayegh (Côte d'Ivoire), Meyer (Burkina Faso), Mouthieu Njandeu (Cameroun), Nemedeu (Cameroun), Njeufack Tengwa (Cameroun), Pougoué (Cameroun), Santos (Togo), Sawadogo (Burkina Faso), Tall (Sénégal). Ont également contribué à cet ouvrage MM. Bonzi et Yayé (juges à la CCJA), Me Botokro (avocat, Togo) et M. Séré (expert-comptable, commissaire aux comptes, Burkina Faso).
Commander le Code Vert OHADA 2016
Le Code Vert OHADA 2016 est en vente et peut être commandé notamment dans les librairies suivantes :
BENIN : Librairie Notre Dame ; Librairie Rachel
BURKINA FASO : Librairie Jeunesse d'Afrique ; Cercle OHADA du Burkina, M. BAMA
CAMEROUN : Promo Livre ; Ets SIM'S et Fils – Takodjou Siméon ; World T Plus – Le comptoir unique, M. LAREDO
COTE D'IVOIRE : Librairie de France groupe ; UCI – Eric DJISSANMALI : Librairie Bah
SENEGAL: Librairie des 4 ventsTCHAD : Librairie La Source
TOGO : Librairie Bon Pasteur ; DPA Sarl
Le Code vert OHADA 2016 peut-être commandé en ligne sur le site www.lgdj.fr et auprès des boutiques en ligne des librairies juridiques européennes.
Pour toute information complémentaire, vous pouvez contacter Juriscope :
Tél. : +33 5 49 49 67 09
contact@juriscope.org
www.juriscope.org